The Handjob Makes a Comeback
Previously posted on EvilSlutClique
Last month we learned about this brand new invention called "lube" (thanks Cosmo!) We mentioned that we didn't believe anyone over the age of 13 actually still gave handjobs. We have long been convinced that the hand job was a dying art form, relegated to junior high school parties.
Even Megan Fox confirmed our feelings on the subject:
It seems like the closest you've come to a controversy like that are those paparazzi photos of you reaching under the table to grope Brian at a restaurant.

"I don't understand why they're so scandalous. When they first came out, it was like, Megan Fox was giving Brian a blow job in pub—I mean, uh—a hand job in public. First: Who gives hand jobs? Who's given a hand job since seventh grade? Not me. And who does it at a café on a public street? I touch him all the time. It's just like, if you have a girlfriend, you grab her butt or whatever. That's all it was, but it became a big deal. I don't know why. For me, touching Brian's dick for two seconds—that's not part of our sex life. That's me playing around; you know, you just cup it a little. For a few seconds."
So imagine our surprise when the majority of the comments we received on the lube blog, indicated that we had been very, very wrong:
"Hey, I still give a hand-job now and then!"

"Hey, don't knock the handjob! With plenty of lube and creativity it can be loads of fun for both parties involved. My bf definitely prefers a handjob now and then. Variety is the spice of life after all."

"Of course people still give handjobs! First of all, it's so uncommon now that it feels dirty. It's also fun for a quickie in the back of a movie theatre, for example... And it's an important component of a rough and dirty blowjob now and then, too."

"The handjob has increased in popularity in my house over the summer, and I agree it is odd. In situations like: she comes first, it's late, finish him off by hand; mutual masturbation; and as an essential element of a BJ."
Upon some further investigation we determined that adults
are
actually giving handjobs to other adults! So we stand corrected. Apparently hand jobs are totally back in style. Or
are
they? We didn't think there would be any resources on the subject, but we
did
find a few.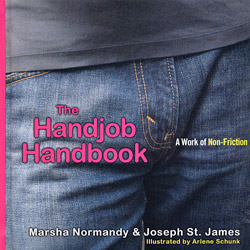 Of course, one of the best guides on the market,
The Handjob Handbook
(it contains 25 different HJ techniques)
does
refer to the handjob as "lowly stepsister to the far more glamorous blowjob". So maybe they're not as in vogue as we've been told. Even the instructional video,
Penny Flame's Expert Guide to Hand Jobs for Men and Women
, doesn't stay true to its name. Although it does feature handjob tips, it also has segments on other types of sex.
We don't really know too many people who would admit to still giving the occasional handjob. Although our
investigative reporting
on the subject reminded us that we used to have a friend who
did
give HJs. She once explained to us that she found handjobs useful for those times when she was with a guy that she "wouldn't want to give a blowjob to". This did not make a whole lot of sense to us. (I guess we all have our own
set of standards
, but it just seems like a weird place to draw the line. Either you want to be involved with the penis or you don't... If he's too gross for you to go down on, then why are you hooking up with him at all?)
Advice Bootcamp
has gone so far as to advise that "you should
give your man a handjob whenever he wants one.
" No, she really said that:
We have less swing-from-the-ceiling-three-times-a-day sex, more maintenance sex, and a strict rule: he can have a handjob whenever he wants one.

It doesn't matter when it is. If he wants a handjob in the middle of the working day, he can have one; if he wants a handjob at midnight, you guessed it – he can have one. He can literally have a handjob whenever he asks (and I often offer).

Giving my guy a handjob whenever he wants one packs an astronomical ROI. [emphasis hers]
Now, we're sure we weren't alone in our immediate reaction of "Oh hell no", but then we read on and realized that there's a little more to the story:
I suffer from a low sex drive (unless in the throes of the first 3 weeks syndrome). I use the word "suffer" quite deliberately.

I wish I had a high sex drive. I wish I'd see my guy, get wet immediately, drop to the floor and spread my legs every time I saw him. It would make him really happy, and I'd feel a lot less frigid.

Unfortunately, for whatever chemical-soup list of reasons, I can go without sex for scary periods of time – and he can't. My guy actually has a pretty high sex drive and, like most men I've encountered or heard of, requires sex and sexual intimacy to feel loved, successful, and happy.

I use my brain to overcome this incompatibility; and one of the tools in my arsenal is the handjob.

All it takes is offering one, or simply saying yes to his request, and his face lights up with an enormous smile. "Really?" he says every time, like I might suddenly change my mind, "Just like that?"

This small investment of time and skill can change everything – like the cock grab, it's an absolutely essential weapon that will help combat the insidious build up of negative interactions even one day can bring.
Aha! It makes a lot more sense to lend your man a hand "whenever he wants", if you're refusing sex to him on a regular basis. (We're not saying anyone should ever have to have sex or substitute a handjob for sex out of guilt, and we're not making light of any issues or circumstances that might cause low sex drives or sexual incompatibility in a relationship. We're just saying that her suggestions seemed pretty sexist and ridiculous without that background info but now make a little more sense.) We're sure that the occasional handjob would help to keep peace in a sexless relationship... but for a couple with a more "normal" sex life, it just seems a little boring and inadequate to choose the HJ over all the other awesome things you can do.
In fact, men don't even
really
need a partner for a handjob... A man can easily... um... take matters into his
own hands.
While
Eden Fantasys
has a whole section devoted to
"jack-off" lubricants
, handjobs only make a small appearance. And even the
Instant Hand Job
lubricant is also described as an "ideal masturbation lube for men".
Okay, okay... sure... jerking yourself off isn't exactly the same as having someone else do it for you... but it's really just feels like one small step up. And now have no fear, there is the
Handjob Turbo Stroker
! This vibrating masturbator promises the "perfect hand job as these plastic hands stroke up and down the shaft at your favorite speed".
Although wait... upon further examination of the product description it appears that the Futurotic™ sleeve features none other than a "realistic vagina entrance complete with open lips and a clitoris". See... the perfect handjob actually simulates... a vagina! Well, a vagina with hands. That vibrates. Who needs a real woman if you've got all that?
But it just further proves our point that the handjob - while not yet extinct - is still a poor substitute for more grownup kinds of sex. Of all the men we've been with, we can't imagine that any of them would trade sex for a handjob.
We've had lots of different kinds of sex over the years... but we've rarely given handjobs simply for the sake of giving handjobs. (Typically they are a very brief part of foreplay only.) We also don't consider any "handy-work" done in conjunction with oral sex to be an actual handjob, so much as just an essential component of a decent blowjob. We could probably each count the number of actual hand jobs we've given... well... on one hand. Clearly, we're no experts.
So we decided to go to the experts and see what they had to say on the subject... For those of you who are still interested in giving handjobs, for whatever reason, here are some tips from
Go Ask Alice!
on how to do it right:
Lubricating the penis with a water-based lube, with your or his saliva, or with lotion is a good place to start. It will help to eradicate any uncomfortable friction from a vigorous rub-down.

You can start the hand job (after some sweet and juicy foreplay) by wrapping your hand gently but firmly around his penis, and moving it up and down the shaft slowly and steadily. As he becomes more aroused, you can vary your speed and pressure, and add some twisting corkscrew motions of your hand around the penis.

You can also try using both hands in tandem. With one hand form a ring with your thumb and forefinger at the base of his shaft and gently tug downward, while the other hand continues in an up and down movement.

Or, wrap both hands around his member and move them in opposite directions.

For some extra spice, you can pay special attention to the corona (the ridge where the head meets the shaft), the frenulum (the thin ridge that runs the length of the underside of his penis), and the testicles which are all super sensitive areas many men love to have stimulated. Massage them gently with a few fingers to elicit some moans.

For a truly scream-worthy orgasm, as he nears climax, continue stroking his shaft with one hand while the other massages his perineum (the nerve-packed stretch of skin between his anus and testicles). He'll be squirming with delight as the tension builds and comes to a… head.

For many people, pleasure continues after orgasm. If your partner likes, you can continue touching his penis, testicles, or other places on his body help the moment linger.
Like we said, we're not experts on this mysterious world of handjob-giving that's apparently going on all around us. So if anyone wants to try to make a case for the handjob, we're willing to listen.