Talkin' 'Bout Their Generation
Posted by
Our family just returned from an Arkansas the Ozark Foothills wedding of my nephew Daniel and his Bride, Renee.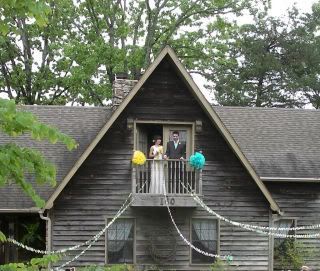 Traditional Marriage in Arkansas? Othniel, why would you and austex54 even go to such an event? Why would you risk even placing a foot across State Line Road in Texarkana? Well even the Model T and the TI computers found their way to the Ozarks.
Tradition Transmogrified.
Our Youth are reworking it. Come with us up to those Arkansas Hills and sit a spell, and just watch. You will really like what you see.
Why dont you all f-fade away (talkin bout my generation)
And dont try to d-dig what we all s-s-say (talkin bout my generation)
And if per chance you spot The Church Lady fleeing the scene, have pity. The Times They Are A Changin' a bit too fast for her. She was a bit discombobulated when Zane told her he did not want her in his pants.
The invitation arrived addressed to austex54 and me jointly. Not two invitations - one. austex54 (Barry) was added on Facebook as a family member by every single member of the family who added me.
A fresh breeze blowing through the trees.
We chose a gift from Ozark tradition - both Barry and I (Robert) stem from Sharp County Arkansas families, even though we met in Austin. In fact my Great Grandfather (D-Evening Shade) was his mother's first State Representative. The gift was a quilt handmade by Barry's Grandmother.
Renee planned the wedding herself, an outdoor wedding on my mother's place in Lawrence County, which has long been in our family.
We loaded the car and left Texas, apprehensive a bit as it was Barry's first trip to my family's home. Zane and I posed just over the State Line to remind Arkansas we remain related despite the gay adoption ban.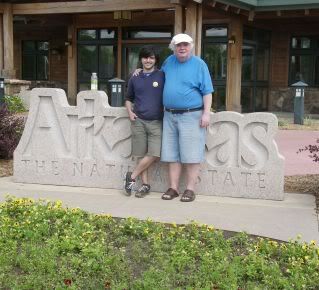 We arrived around 9:00 p.m., though Barry had a hard time believing the country dirt and gravel line could hold much other than a tent or shack at the end. Hugs. Mom showed him the house, and asked which of two rooms he would prefer for us to stay in. We chose the one with the wood furnace which had been mine years ago.
Rain. More rain. Flooding in the basement the day of the wedding - oh my. Barry to the rescue with the wet vac and now he is more than family.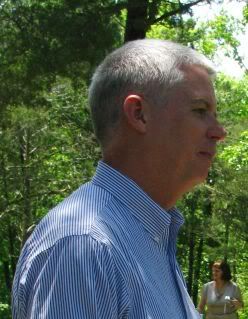 Nerves, jitters, Rain. Wow. Can we help with flowers? Sure - again, my man is suddenly an indispensable family member.
Music by iPod, Zane and Danny doing it the day of the wedding! Zane's Mom with her D.M.A and countless organ playings at weddings laughs as er son takes the iPod Wedding torch, and applies what he has learned from her in a new way. And Byron escorts her to the arbor and sits with her.
Sunshine!!!!
An outdoor arbor, a Priest from Longview, and the procession. A Female Groomsperson, oh my. Another tradition down.
Vows, prayers, and the Kiss. Daniel raises one hand and points to the balcony on Mom's house and the Zane begins the recessional. Daniel had told him to look for the Babe Ruth moment.
Dancing. Everyone.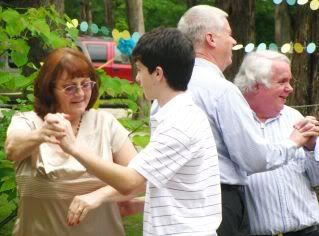 Sharing the driveway dance floor with family and friends, Barry and I dance to I Love How You Love Me, at home, at a wedding, in the Arkansas Ozarks.
Note how the beautiful Ivory sleeveless gown highlights Renee's tattoo. Daniel's suit and tie, the black going away dress which was once my mothers.
Hawaii awaits.
So does Mothers' Day. Barry prepares Mother's Day dinner for 15, and locks himself in the shower one hour before dinner. I rescue him between laughs, remind him it is the Ozarks and most doors and such require a certain kick or shove. [Picture Censored] Home.
Tradition. Byron provided white and red roses for all,red for a living mother, white for one who has passed on. Honor. Dinner. Roast Pork Loin stuffed wit figs and apricots, roasted sweet potatoes with fresh rosemary and thyme, green beans, My Aunt's salad we make in her memory - and Strawberry Tiramisu by Barry and Chocolate Cheescake by Jane.
Weddings. Mothers. Honor. Young People.
There was no time for anything but life and fun. We are family.
Passing the Torch - and these kids are going to run with it and do us proud.
Meanwhile, the place returned to its ageless wonder.